This post may contain affiliate links. As an amazon associate, we earn from qualifying purchases. 
Ready to get outside and enjoy the snow with your little one this winter? There are multiple options when you are choosing the best sled for your young baby or toddler. There are also multiple things to consider. You want to keep in mind the price, of course, but safety is a paramount issue when you are selecting a sled for your young child. You want to make sure you are buying only the safest, most durable, and reliable sled.
We have loved sledding with our kids from as soon as they can sit up, and it's a great way to introduce them to winter play without needing much in the way of specialized gear or equipment.
Best Features For Baby and Toddler Sleds
When choosing the best sled for a baby or toddler, the most important factor to consider is stability. Choose a sled with a wide base and a low center of gravity to prevent it from tipping over. While a sled that's a bit taller can be easier to put little kids in, they're much more likely to tip over and injure or scare little kids.
We also recommend choosing a sled with a long rope, or a stationary handle to help push or pull your little one smoothly.
Do Babies Need To Be Strapped Into A Sled?
While a strap for a baby or toddler sled is not essential, it can be helpful. We have noticed that if you have a very deep sled where your baby sits low to the ground a strap is not essential.
Altogether, there is much to consider when you are buying a sled for your family and especially the very youngest among them. With such a busy market, you want to find the sled right for you and make your purchase long before the winter comes and you are left with nothing and your kid isn't able to go out and enjoy the snow.
Sledding can be a family even with the right sled. It will be amazing fun for your children, you, and any other members who come along and want to make memories. However, it is vital that you make a choice that is right for you.
At What Age Can a Baby Start Sledding?
We have started all of our kids on a sled shortly after they could sit up, though that's definetely on the young side. Until our kids are a little bit older (typically 15-20 months), we jsut pull them gently around the yard or down the sidewalk. When sledding with babies, it's important to try and keep them on a fairly level surface to prevent them from falling out.
Best Baby Sled and Best Toddler Sleds
We've searched high and low to bring you the best sleds for your toddler and the best sleds for your baby. We spend a lot of time in the snow as a family, and we know that investing in good, safe gear for our kids always helps them to have a better time and for us to relax more as a parent.
Flexible Flyer Plastic Baby Pull Sled
Best Budget Sled For Toddlers and Babies
Age Range: 6 months to 3 years
Maximum weight: 40 lbs

When we were first married, this was our go-to sled with all our babies and toddlers. The hard plastic is incredibly strong (it withstood lots of "play" from older siblings), and the design is practically perfect.
In this baby sled, your child sits down low, and the high plastic sides help hold them in place. There's also a strap, making it great for younger babies too. Our babies started using this sled around 6 months, until they were ready to race down the hill on a downhill sled.
We loved this sled for years and years and it's still in the rotation being passed down through a long line of cousins. If you want a sled that will hold your baby or toddler STILL without tipping over, I highly recommend this little kids sled.
Age range: 6 months to 4 years old
Maximum Weight: 50 pounds
We absolutely love this snow stroller for babies from Flexible Flyer. It's got the same great low design as the pull sled we mentioned above, but is perfect for packed down snow or ice where you're more likely to push your child than pull them.
It isn't made for intense, fast rides down a slope but if you are pushing or pulling your toddler around, this sled is ideal for you.
What makes it so good? Part of it are the stainless steel runners that make treading through snow completely easy and safe. The folding handle is also super helpful, allowing you to depress the entire sled with just two buttons. You can take this sled on the road.
It's also a stable ride too. The wide base provides strong support for the entire sled and it's also crack resistant so it won't break or endanger your baby, even if you happen to hit a rough patch on the road. Created with high-grade materials and construction, the workmanship on this sled is second to none and worth the price.
We also love that there is a handle to push kids through more packed down snow and a rope to pull them through deeper snow.
Age range: 6 months to 2 years old
Maximum Weight: 50 pounds
This baby sled is packed full of fantastic features that make it a good buy. We love the low design safety strap, and especially the cover to keep kids warm and dry even when the weather is bad. This is the best baby sled for bad weather or if your baby gets cold very easily.
Between the generous pull rope and the waterproof cover, this sled is the best sled for babies.
The sled promises to keep your child comfortable and bundled up in warmth no matter what sort of weather there is. It's most perfect for any family who lives in a part of the country with rough weather. The weather shield truly ensures that your kid will feel comfortable and happy in any sort of elements. Whether it's a sunny day or blizzard conditions, you and your little one will be able to enjoy the cold of winter.
Age range: 6 months to 3 years
Maximum Weight: 55 pounds
This bright, vibrant toddler sled is fun to ride in and fun to look at too. But most importantly, it's comfortable and safe for your little one.
With a specially made angled 80 degree backrest, this sled can actually pick up some decent speed and take sharp turns without much of a risk of it turning over. That means that it is great to be pulled or to actually go down slopes.
The best feature of this baby sled is the three-point safety harness which guarantees that your child will stay buckled into place and won't slip out while sledding.
It comes in multiple colors, all of which are bright and festive and stick out among the snow so you will never lose sight of the sled.
Age range: 36 months to 7 years
Maximum Weight: 150 pounds
This traditional sleigh wagon looks like something from the past but moves like a very modern, safe, reliable sled. We love that you can easily use it year round by changing the sled runners into wheels. This is what we consider to be the best convertible sled for toddlers. With a maximum weight of 150 pounds, and a great cover (for sun, snow or rain) you can get years and years of use out of this toddler sled wagon, lasting through multiple kids.
It is created with anti-tip auto type steering, which means it won't fall over when your little ones are inside. Even when you pick up speed, this wagon is designed to remain stable.
With a water-repellent cover, your kids will stay safe in the Millside sleigh (don't forget to have them wear a waterproof winter coat as well). And with a strong, nearly unbreakable handle, you will be able to guide your kid through any winter wonderland. Durable plastic tires only make the rider smoother. 
Age range: 12 months to 7 years
Maximum Weight: 200 pounds
This double-walled plastic sled will become the favorite of the young winter warrior in your life. It is made with the highest-quality materials so it can withstand most rides through the snow and can even pick up a lot of speed.
The KHW Snow Baby Fun Sled is also made with a three-or-five-point safety belt to keep your child in place. The safety belt is made with durable, tough fabric that will not tear, even if your child uses this sled often. You will hear it click into place and will rest assured that they are safe for the entie ride.
The sled comes with a net to store items and an adjustable driving rod. However, the net can be taken off so that an older brother or sister can ride on the back of the sled.
This sled is ideal for hills and slopes but should always be guided by an adult. If you want a high-quality push sled for kids that will last for year and years, this is one of the best kids push sleds.
Age range: 18 months to 3 years
Maximum Weight: 200 pounds
This kid-friendly, colorful, traditional sled is great for your toddlers first time in the snow. While the manufacturer recommends this sled for babies as young as 7 months, we don't recommend it for anyone under 18 months.
This sled is not made for kids to use on their won, but for pulling your toddler in a sled. The tow line is graet for pulling your kids around the neighborhood of through the backyard.
The Flexible Flyer Baby Pull Sled is created with a wide base so the sled will not tip over or veer off course.
Age range: 18 months to 4 years
Maximum Weight: 330 pounds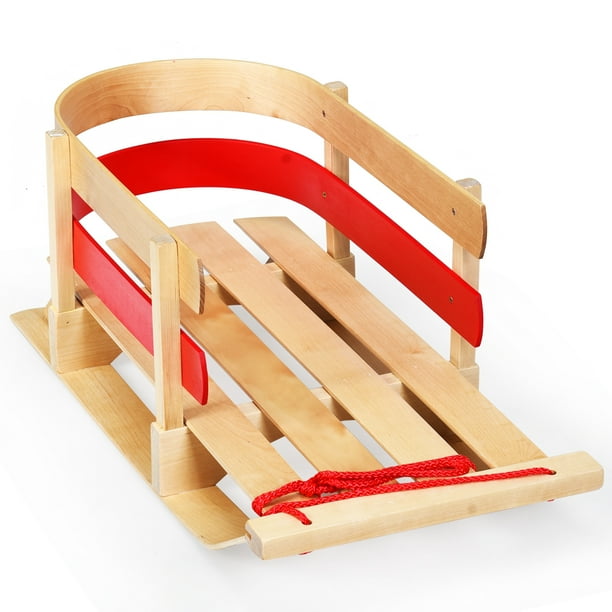 The Costway Baby Kids Wooden Sled is very similar to the Flexible Flyer baby pull sled. It's bade of strong and durable wood that's designed to flex and still stay strong to that it will last for years and years so come.
It comes with a pair of protective side rails to help keep your kids in. Because there is no strap or "bucket" for kids to sit in, this is best recommended for toddlers or kids who are a little bit older.
With elevated seating, your child will stay dry even on the snowiest of days. Additionally, you don't have to assemble this sled since it's ready to go right out of the box.
This old-fashioned sled for toddlers feels like something out of a classic holiday movie. It is ideal for pushing, pulling, or if your child wants to sled on their own.
Can a Baby Ride On A Regular Sled?
Yes, a baby can ride on a regular sled, but they are not as safe as a sled that's specifically designed for a baby. We recommend that if you take your baby on a regular sled that you only go very slowly, and that you have someone else there to hold onto them so they don't fall off of the sled.