This post may contain affiliate links. As an amazon associate, we earn from qualifying purchases. 
We've been using foam sleds in our family for 16 years now and they're always our GO TO sleds when we want to keep things simple. Even our preschooler can carry his own foam sled to the top of the hill, so they make our family sledding days so much easier. The joy of sledding with kids down a snowy hill will bring everyone smiles and with foam sleds, you can get that fun without having to break mom and dad's back! It's a great way to gather and enjoy time outdoors while building memories that last forever.
Sledding with kids is not only an inexpensive way to have fun in the snow, but it's also a great way for everyone to be included in the games. There are many different types of sleds available today. The most affordable AND easy-to-use sleds, especially for small children, is the foam sled.
Why should you buy a foam sled?
Foam snow sleds are the PERFECT choice for family sledding. They're incredibly lightweight, so even your youngest can pull the sled up the hill for another ride down. That same lightweight construction makes it always be easy for the family to grab the sled and head to the park. You'll never be slowed down by clunky wood or metal.
The lightweight benefits of foam sleds also make them SUPER accessible to EVERYONE in the family. Kids of all ages can easily carry and maneuver their sled, whether they're trekking to the park or flying down the hill.
Foam sleds have a slick plastic bottom that naturally slides with ease. This adds to the fun of catching speed and racing to the bottom of fresh powered hills! The slick bottom of foam sleds also makes them incredibly fast as well.
And to top it all off, when the winter season comes to an end, you can tuck the sleds away in the rafters or up on the shelf with ease. Transport and storage could not be more convenient. It sure does beat the heavy and awkward weight of wooden and metal sleds!
Which foam sled is right for me?
The best foam sleds can be found in all shapes and sizes! Picking the best foam snow sleds for you and your family depends on who will be riding.
When you're considering the size for your foam snow sleds, remember that kids will have an easier – and more fun – experience if the sled is proportional to their size. Smaller kids should ride smaller sleds, and bigger kids should ride bigger slides. This doesn't necessarily come down to the age of your kids, since kids can grow at all different rates. When you're selecting the right sled size, make sure the sled is big enough for your child to sit on it comfortably and safely without falling off, yet small enough for them to carry comfortable up the hill.
Some foam snow sleds come with weight capacity guides. This is especially important if you plan to have more than one person riding the sled. For very little kids, they can join the fun by going for a ride on mom or dad's lap. If you plan to join the fun and ride with your kids, make sure the sled can carry an adult weight. A sled with a higher weight capacity would also be something your kids can grow into and share as they get older.
Finally, you should consider not only the weight, but also the carrying capacity. Some foam snow sleds can only hold one rider at a time. Meanwhile, others are designed for multiple riders. It's always a blast to ride down the hill together! If you think your kids will share the sled ride, make sure it's large enough and has enough handles to accommodate all riders.
How do I take care of my foam sled?
Taking care of your foam sled is so simple! Just keep these three tips in mind when you're putting the sled away between outings or at the end of the season.
Store the sled indoors whenever possible. Foam can become damaged from extended periods sitting in the elements.
Keep the foam snow sleds away from the sun for extended periods of time (over a week). The sun can degrade the foam and make it weaker and more suspectable to damage. So, keep the sled stored indoors and away from windows. A dark shed or a basement would be great options!
Don't ride over rocks, sticks, or asphalt. All of these can tear the smooth coating on the bottom of your foam sled, which will slow it down considerably.
Keep your sled clean! If it gets muddy or dirty, wipe it clean between uses and before storing away. Dirt can become abrasive and cause the foam to weaken over time.
Best Foam Sleds
We're here to help you find the best foam sleds possible. Whether you're looking for a one person foam sled, a foam sled that fits 2 people or a foam sled for little kids, we've got you covered!
Size: 46 inches long
Best For: 1-2 Riders
This is the ultimate foam sled! These are the best snow sleds available and are bi-directional, with four handles that let riders sit in any direction or placement and still grip on at top speeds. Getting to the top of the hill is made easier using the built-in towline. Your whole family will enjoy crisp winter days on the toboggan runs. This sled is the whole package, and to top it off, you have three super cool color patterns to choose from. This will be your go-to winter ride!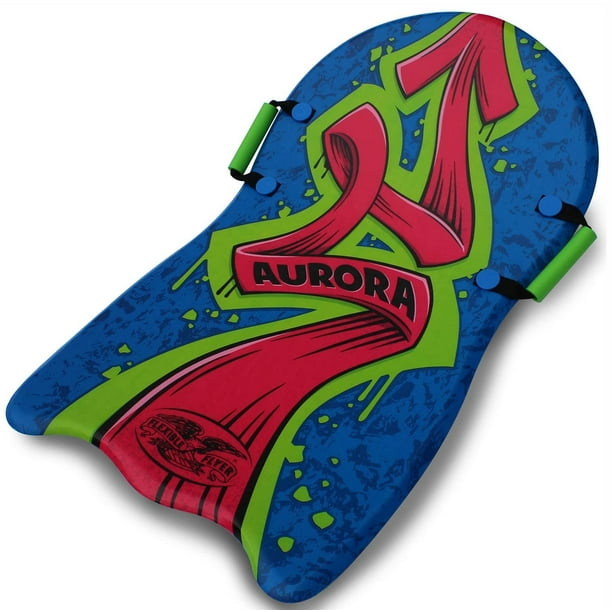 Size: 36 inches long
Best For: 1 Rider
These are the best foam snow sleds for younger kids! This is a smaller sled that is easier to maneuver down and up hills. The slick bottom will ride all snow conditions on the hill. The foam is of high-quality that absorbs bumps on the hill, making it both durable and comfortable. The sled comes in a flashy design that is sure to standout on the hill! You'll get out sledding with kids all winter long with this ride.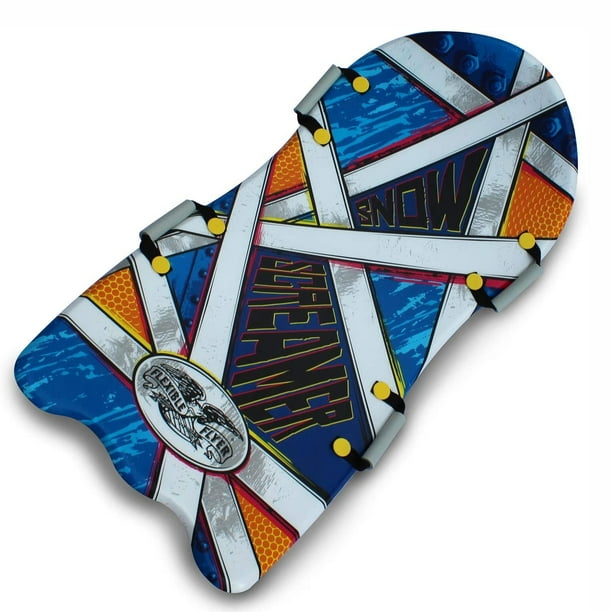 Size: 47 inches long
Best For: 1-2 Riders
These are best foam sleds for bigger kids, or for kids to share on the run. There are four handles conveniently places for riders to easily grab on the fly! The sled is winter-proof and resists cracking under cold weather with the flexible foam construction. This sled is as comfortable and fast as the single-rider variation (The Flexible Flyer Paricon-2), but large enough for big kids or multiple riders. Personally, we prefer it as a one person sled so you can get a running start at the top of the sledding hill. Either way, it's a great addition to add more riding options for foam sleds this winter!
Size: 49 inches long
Best For: 2 Riders
Have a need for speed? Then look no further than this ultra-fast sled! These foam sleds for kids have an aerodynamic shape and a super slick bottom that will glide across all snow conditions. This sled has four handles for riders to grab, even if two are jumping on to ride. This sled is slightly longer than the Paricon 1 so it can fit 2 people more easily. The sled is coated with IceVex that helps it weather the cold for many seasons to come, so it will last your kids longer. We love how lightweight and easy to turn this sled is.
Size: 26 inch Diameter
Best For: 1 Rider
Looking to change things up? Grab this foam saucer that will guarantee a good time while sledding with kids on the hills. These foam sleds for kids are round and have two handles – which are needed on this adventurous ride! This is not only super-fast but will also take you on a wild ride as you spin and twirl down hills, around bends, and over jumps and bumps. The base is a very slipper plastic that is durable and ready for any condition.
Size: 40 inches long
Best For: 1 Rider
Want to ride fast and look cool doing it? Then this is the sled for you! This foam ride is all about speed, so it's a good thing there are extra strong handles to grip onto. The pattern and colour are a super colour paint-splatter of bright green, black, and white. This will be the coolest ride at the park, no doubt!
Size: 50 inches long
Best For: 2 Riders
A sculpted design adds speed and agility down the hill. Riders can cruise this solo or with a friend. Be sure to grab onto the four handles on the way down, because this sled will be picking up speed with ease. The foam is durable yet provides the cushion you need for long days hitting the runs. This is the best 2 person foam sled we've seen!
Size: 40 inches long
Best For: 1 Rider
This is a fun ride for maneuvering and riding with style down the hill. The board is stable yet agile enough to add flare to the runs! Kids will find this sled light enough to haul up even the steepest hills, all day long! And you can rest assured on this sled's quality – it's made by the same company that you know from your Frisbee, Slip N' Slide, Hula Hoop and beyond. A great all-around board for years of winter outdoor sledding fun
Sno-Storm Set of 2 foam sleds
Size: 45 inches long
Best For: 1-2 Riders
This is the perfect sled 2 pack for head to head sled racing. Compete on the hill in speed, agility, and style with this foam sled! Choose between hot red or blue flame designs, which will be the most memorable rides in town! These foam sleds for kids have four sturdy handles for riders and friends to grip onto over jumps and down hills. The sled deck is specially contoured to easily ride and control down hills.
Size: 45 inches long
Best For: 1-2 Riders
This ride is unstoppable! You'll always make it down hills, even on slushy and wet days. The sled is super slick and finished with a water-resistant coating. Kids will have fun riding solo, or with a buddy! There are four handles so plenty of room to grab on, but this is a tight fit for 2 bigger passengers on this foam sled. The foam core will help absorb shock and ensure comfortable rides for years to come!
Size: 48 inches long
Best For: 2 Riders
These foam sleds for kids are ready for one or two riders. Make sure everyone is ready for a wild ride, as there are no external handles on this one! The sled has a special contoured side to grip onto and is large enough to accommodate a comfortable ride. These are among the best foam sleds AND they boast vibrant colors that will make a statement on the snowy hill.