This post may contain affiliate links. As an amazon associate, we earn from qualifying purchases. 
For families living in colder climates, the winter months can be challenging! The cold, dark winter months drag on, and it can be difficult to get outside and enjoy some fresh. You can easily beat the winter blues, however, by heading to your nearest park-side hill to go sledding with kids!
Sledding is a great way to enjoy the snowy season. The best snow sleds are inexpensive, easy to use, and fun for kids of all ages! There are endless possibilities when you match the imagination of a child with the fun of a sled. No experience is needed to enjoy saucer snow sleds. From beginners to experts, young to old, there is fun for everyone!
It can even be great exercise for the family as everyone treks through the snow, hikes up the hill, and creates memories together. Best of all, if you're going saucer sledding with kids, it's one of the best ways to ensure that your kids are totally exhausted by bedtime and simply collapse into bed at night (one of my main goals as a mom with little kids) Saucer sleds are small, lightweight and easy to carry, so they're a great sled for kids and adults alike!
How To Choose The Best Saucer Sled
Saucer sleds are a great option for families looking to enjoy some time outdoors this winter. They are a simple design with boundless possibilities. When you're choosing a saucer sled, there are three key features to consider.
The first feature is the weight capacity of the sled. Some saucer sleds for kids are larger than others and can carry bigger kids more easily. Sometimes, if the sled is large enough, two kids can ride at once. Check the size and weight capacity of the sled to make sure it will suit your needs.
The durability is also worth considering when you're searching for the best saucer sleds. The key thing to look for is the thickness of the plastic dish. If the plastic dish is thick, then it will most likely be more durable. Think and stiff plastic can become brittle, especially in the cold. So, for many years of use, opt for a thick or more flexible saucer.
The saucer size, not just the weight capacity, can vary as well. Choosing the right size will depend on the sledding conditions as well as personal preference. In general, a smaller size sled will be able to handle turns more easily than a larger one and be a better saucer sled for kids. Meanwhile, a larger size saucer sled will be more stable and easier to ride. When you're looking for saucer sleds for kids, choosing one that is in proportion to their size will make their riding experience easier and more fun! 
Best Saucer Sleds
Want to choose the best saucer sled? We're here to help. We've rounded up the top saucer sleds on the market to help you decide which one is best for you and your sledding goals!
This is a premium saucer sled that is a great choice for both kids and adults! The sled is a double-lined and 100% roto-molded design that is highly resistant to damages. You don't have to worry about dents or punctures slowing down your sledding! To top it off, it's incredibly light and easy to carry. Kids will be able to haul it up and down hills with ease. Perhaps most importantly, this saucer sled is super-fast! You'll be winning races and impressing the other sledders. And when the season's done, it stacks and stores easily. All things considered; this is what we think is one of the best saucer sleds on the market. 
If you're looking for a metal saucer sled, then this is one of the best options for you. The saucer sled is made from heavy gauge Bethlehem steel that is sure not to break. If you're really hard on your sled, you may be able to dent this metal saucer sled, but most can be straightened out with some tools. The sled is a great ride for most adults and for children over 5 years old (it's a pretty fast ride for younger kids). Riders will find this sled glides smoothly and easily down hills with some impressive speed! These are the best saucer sleds for those who are specifically looking for a metal sled. 
A classic sled that is great for both kids and adults. This plastic sled is coated in a technical IceVex cold-resistant treatment made to handle even the coldest days! The sled will withstand the great days you're sure to have on the hill. There are two reinforced handles for riders to hold while they're zipping down the slopes. This is a great saucer sled and it's the best budget saucer sled that we've seen!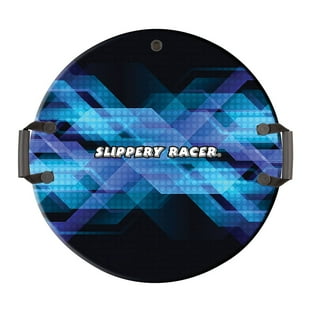 An ultra-light sled choice that packs some speed. This sled is for kids who are ready for a fast ride. We love the combination of a foam sled and a saucer sled in thei Zeus foam saucer sled. The saucer is a flat disc made from durable PE Foam, with two soft handles on either side. The sled is coated with IceVex for cold weather durability. This is a good choice for kids that are a little older and can hold their balance down the hill. It'll slide down with ease using the slick plastic base that glides across snow. This is an ultralight saucer sled that glides down the mountain FAST!
Sleds and Snow Tubes | Outdoor Equipment at L.L.Bean
L.L. Bean makes a great saucer sled choice for kids 4 years old and up. This plastic sled is lightweight and easy to both carry and ride! The best feature of this kids saucer sled are the handles that are rigid and easy for kids to grab with their mittens on. This is our favorite saucer sled for little kids!
These saucer snow sleds make going uphill almost as fun as going down! Using the innovative long straps attached to the sled, kids can pull the sled uphill easily. This is a fantastic feature, and we wish that more saucer sleds had tow straps to make sledding with kids easier.
It can also be used as a sled to pull the kids on for more ways to have fun together! This saucer racer sled is made from durable plastic and has two foam side handles to hold onto while sledding downhill or being pulled around snowy parks. The handles can be covered by padded grips to make it more comfortable and easier to hang on. 
This saucer sled has a deeper dish design with rolled edges that help stabilize riders, plus handles made into the rim to grip onto at high speeds! The saucer is for kids ages 4 and up. Adult riders can even enjoy the ride! The sled is an affordable option, though it doesn't have much in terms of bells and whistles. If you want a basic saucer from a quality brand, this is an easy one to grab.
A saucer sled made just for your kids! This sled has a comfortable dish to sit inside with two molded handles to help kids balance and steer on the way down hills. It's lightweight, so your kids will have no issue hauling it up ride after ride. You'll enjoy man years with the durable and high-quality plastic material. On top of it all, these saucer sleds for kids are coated with a slick plastic that lets the little one's race down hills with even more speed!
Why choose a saucer sled?
If you're looking for accessible, inexpensive, and easy FUN for the winter, then look no further! Saucer sleds have been around for decades, yet this simple design packs as much of a ride today as ever.
Saucer snow sleds are a fantastic option because they are incredibly compact for simple transport and storage. They are lightweight, which helps kids handle the sled, whether they're pulling it out of the shed for a ride or packing it away at the end of the season. We also love that most of them can stack several on top of each other for storage.
Saucer sleds are also the best ride for sledding tracks with lots of turns. That's because they are a perfectly round dish that can spin around corners with ease and agility. In fact, they might even be the MOST fun on twisty runs.
Topping it all off, as mentioned already, saucer sleds are very inexpensive and an accessible way to go sledding with kids.
Drawbacks of Saucer Sleds
The biggest drawback to saucer sleds is their susceptibility to cracking and breaking. These sleds are usually constructed out of thin plastic. This can last several seasons, but there's a chance that even the best snow sleds could crack by accident. Whether it was a stone or chunk of ice, or even some hardcore sledding, saucer sleds are not the most durable and tough option on the market.
The other problem with saucer sleds is that they're difficult to steer and not spin around while they're going down the hill.
Are Saucer Sleds Safe?
Saucer sleds are slightly less safe than a traditional toboggan because they can spin around while going down the hill. This means that they can cause the rider to unintentionally go down the sledding hill backwards or in a dangerous position.
To minimize dangers of a saucer sled, we recommend that you always be aware of your surroundings, and wear a helmet during all winter sports activities.
How can I keep a saucer sled in good shape?
You can help prevent your plastic saucer sled from becoming weak and brittle with a couple simple steps. The easiest way to ensure you'll have many years of winter fun with the sled is by storing it indoors. Keeping the sled outside will expose it to harsh weather conditions and can cause the plastic material to wear down more quickly and be susceptible to damage. In addition, make sure the sled is dried off after each use. If the plastic stays wet, or worse, becomes too frozen, it will cause weak spots to form and a crack waiting to happen. With just these two simple care tips, you'll help ensure the sled is ready for use every winter so many seasons to come.