This post may contain affiliate links. As an amazon associate, we earn from qualifying purchases. 
Snow scooters are quickly becoming some of the most popular sledding toys for all ages. You can see snow scooters everywhere from ski hills to kids riding down the sidewalk to get to school on a snowy day. A snow scooter is one of the most fun ways to play in the snow and they're built for all ages.
Snow scooters all seem to be a cross between a scooter and a pair of skis or a snowboard. They're designed so that you can glide around on the snow standing up.
Since snow scooters are so new to the winter scene, we're sharing the best snow scooters you can buy as well as some specifics about each scooter to help you decide what's best for you.
Depending on the product and model you pick, the price and quality of a snow kick scooter might considerably vary. Usually, there are some fantastic bargain options, and other times you're simply squandering your money on products that won't last more than a few days.
Best for Ages: 7-12
Scooter Height: 34.25 inches
Maximum Weight: 110 lbs
The Stiga Snow Kick Bike is an ideal snow scooter for any young kid who wants to move quickly and perform some fun tricks in the snow. It is crafted with high-quality materials like the best in lightweight steel and aluminum.
Perhaps one of the best features of the Stiga Snow Kick Bike is the fact that its height is adjustable. Therefore, riders can use the snow scooter even as they grow older. That being said, this scooter is best for children from age seven to twelve and can hold a rider of up to 110 pounds.
Additionally, it is foldable which means it can be taken on trips and is easier to store in the garage when not in use. With a light weight and customizable height, the Stiga Snow Kick Bike is a great addition to any winter excursion and will lead to hours in the snow.
Best for Ages: 7+ years
Scooter Height: 33.5 inches
Maximum Weight: 220 lbs
The Mongoose Expo Scooter, combined with the Strider Ski Attachment, is a great way to experience the fun of snow scootering for older kids, teens and adults. Created with durable BMX-style bike handles and hand brakes (not functional when in snow scooter mode), the scooter can move with deft speed.
With a wide foot deck, it can accommodate most children of many different ages. It looks like a Mongoose bike but with the strider ski attachment, it moves like the fastest snow scooter on the market. With this set-up the scooter can easily be converted from a ski scooter to a regular scooter in about 5 minutes.
The wide deck of this scooter makes it ideal for moving fast and staying sturdy on varying conditions. Note: This combination isn't put together by the manufacturer, just by our family, so use caution. We have a scooter and ski attachment that's almost identical to this and it's everyone's favorite!
Best for Ages: 5 and older
Scooter Height: 34.25 inches
Maximum Weight: 44-140 lb
The RAILZ Youth Snow Scooter is a great way to hit the slopes or the snow on a day off from school. Whether your child is riding down the sidewalk or a major hill, the RAILZ Youth Snow Scooter will keep them safe, keep them happy, and keep them moving.
This snow scooter is approved by several ski resorts so you can definitely take it with you on the next family ski trip. Additionally, this scooter comes with an adjustable handle and a height that can be altered depending on the size of the rider. The youngest age ideal for this scooter is five, although even pre-teens and older will be able to use it.
Our favorite feature of this kids snow scooter is that the steering really does work and can help kids control their direction and trajectory.
Best for Ages: 5 to 15 years old
Scooter Height: 56 cm to 66 cm
This 2 in 1 snow scooter is designed for year-round use. In the winter it can have kids attached to it to use in the snow and when the weather is warmer, you can swap the skis out for wheels. A snow scooter you can use every season? What more could your child ask for?
With an adjustable height handle that maintains great balance and speed and steering, the Maython 2 in 1 is ideal for children and riders of any age. It's also made with a super-strong, high-quality material that actually flexes just a bit for a smooth ride.
It's foldable and able to be transported with ease and it comes with bright, vibrant colors that other riders will be jealous of. The Maython 2 in 1 Snow Sled is a sporty, fast, durable snow scooter.
Best for Ages: 4 to 10
Scooter Height: 37.8 inches
Maximum Weight: 180 lbs
For the little, daring rider in your life, the Airhead Scoot Youth Snow Scooter is a great way for your child to learn how to ride in and enjoy the snow.
It's made with durable molded polymer materials and crafted with a slick grooved bottom that allows speed, flexibility, and deft movements.
It is made with handle hinges that allow you to fold the scooter flat and take it on the road with the family. It is also made with high-impact construction, which means that is can take on more intense snow slopes, even if the rider is young. They will have accurate control, direction, and safety throughout every ride.
You will feel confident and comfortable letting your child use the Airhead Scoot Youth Snow Scooter. That's because you will know they're safe and enjoying themselves. With the superior construction on this scooter, they will be able to be safe and enjoy themselves for quite a while.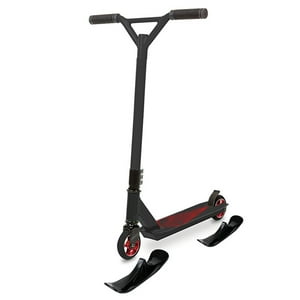 Best for Ages: 5 years and up
Maximum Weight: 200 lbs
The SANWOOD Snow Scooter Ski Sled is a set of 2 attachments that can replace your existing scooter wheels with little skis. This is a perfect set for someone who already has a scooter, and wants to still use it in the winter. This allows you to get year-round use with a snow scooter and the scooter you already have.
Best for Ages: 6 years and up
Scooter Height: 31 inches
Maximum Weight: 220 lbs
The Original LED Ski Skooter is a snow scooter for children that is unlike any other. It is built with a high-quality, one-of-a-kind LED light module built into the handle. The LED light will flash with five different colors, and comes with both strobe and fade modes. While the lights aren't super bright, they do add a good element of fun to this kids snow scooter.
This snow scooter for kids is a great way to introduce kids to the mechanics of snowboard, but with the added aid of the handle to help them balance better. We love that it folds up flat for easy trasnport and that the foot grips on the bottom are really grippy so they grab onto snow boots well.
Can little kids use snow scooters?
Yes, they absolutely can! Our 4-year-old has the Airhead Scoot and it's great for him. If young kids are using snow scooters, remember to help them learn properly and to start on gentle hills.
Can adults use a snow scooter?
Yes, adults absolutely can use a snow scooter and my husband and I regularly snow scooter around our neighborhood. Many of the snow scooters that we've shared have high enough weight capacity for an adult, but the handle is fairly low. Because of that, we recommend something like the Mongoose scooter with a 12″ ski bike attachment (that's what we do). Scooters like that are built more for bigger riders and have a bigger platform for adult sized feet.
What conditions work best with a snow scooter?
Packed Powder is the best kind of snow for a snow scooter. Powder is often too deep for a snow scooter to glide and ice can create other dangers.
Do I need a hill for a snow scooter to work?
While you can use a snow scooter on flat ground, they don't glide smoothly like a traditional scooter with wheels would, so plan on pushing a lot more. We prefer to use them as sledding snow scooters and take them down gentle hills.
Can I get a motorized snow scooter?
We don't recommend motorized snow scooters. They don't have a good track record and are notoriously unsafe.
Snow scooter safety
Besides having fun, one of the most important things to consider when using a snow scooter is safety. To stay safe, we recommend wearing a helmet and that younger children are supervised. If you choose to take your snow scooter to a sledding hill, make sure that you start learning to use your snow scooter in an uncrowded area with a gentle slope. As your skills increase, so can the slope of the hills you ride.
While it may be tempting to try all the tricks you normally would on a sled, while riding a snow sledding scooter, remember that your venter of gravity is much higher, which can increase your chance of injury. Like I tell my kids – when in doubt, don't do it!
Can I take a snow sled scooter off a jump?
This was the first question that my teen asked when we tried snow scooters. We don't recommend taking a scooter for snow off a jump because it can damage the skis/runners on the bottom. While a traditional scooter does great on jumps, keep in mind that it has wheels with a little bit of flexibility. Snow scooter skis are rigid, which can cause damage to your snow sled scooter or injury to the rider.